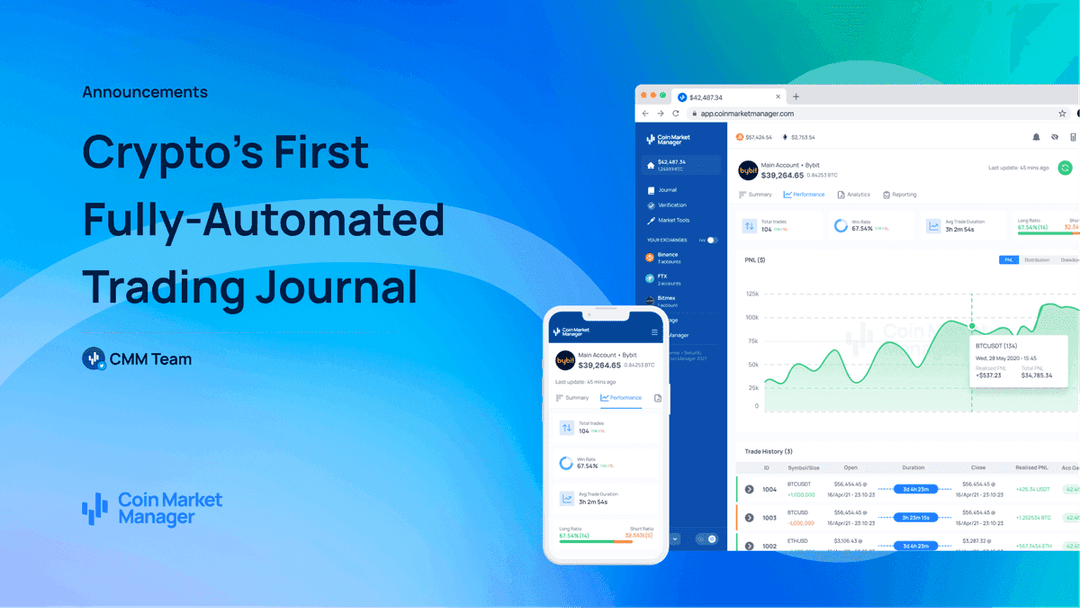 Introducing the First Fully-Automated Crypto Trading Journal
By CMM Team - 01-Aug-2020
Coin Market Manager is proud to announce the first fully-automated crypto trading journal.
Journaling trades is one of the pillars of improvement and progress. Recording trades teaches every trader to become consistent and disciplined. But journaling is often a tedious task. 
That's why Coin Market Manager was created. 
Every user can easily import active or concluded trades from their connected exchanges to pre-populate trade data and save time on boring data entry.
Here's a quick look at some of the best features inside CMM.
Automated Trade Imports
One of the most useful features of CMM journaling software is automated imports of trading data. Users can import either an open trade or any concluded trade from their connected exchange accounts. This data will auto-populate dozens of trade entry fields with just a few clicks. 
Easily Update Trade Entries
After completing a trade, users can select the Update button. This will return the user to the trade import page. Simply refresh trade trade history and select the newly completed trade.
Charts and Notes
Traders can string multiple charts and notes together for each trade.
Write thoughts about the trade, reasons why the position was entered, and any other relevant information. Also, TradingView chart snapshot links will load previews automatically
Trade Tags
Tagging your trades will be crucial for filtering and analytics later down the line. Tagging trades with descriptive keywords will allow users to clearly spot patterns in their habits and easily learn which setups are profiting the most, and which are losing ideas. 
Trading Notes
Write down a stream of consciousness in the My Notes section. Post charts and write down any thoughts and views on the activity seen in the market while trading.
Deeper Analytics (Coming Soon)
Even more detailed analytics will follow shortly. Users will be able to view their most and least successful tags to understand which combination of setups are working best in the market. Also, these features will help traders learn about what position sizes bring the best returns – which trade durations have the highest win ratio.
All of these tools make Coin Market Manager the ultimate crypto portfolio tracker for every trader.