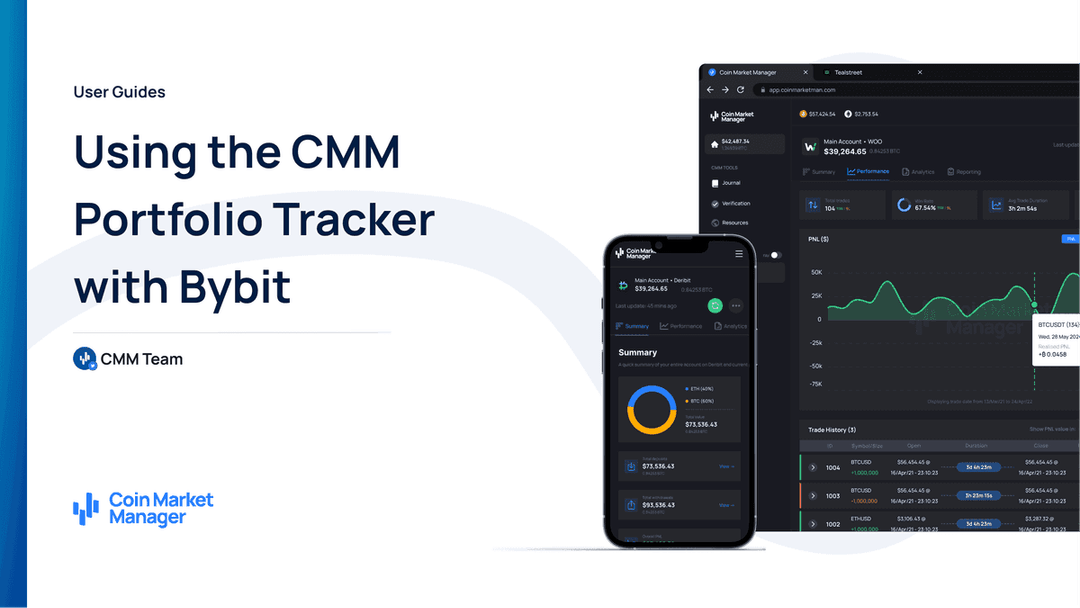 Using the CMM Portfolio Tracker with Bybit
By CMM Team - 01-Mar-2020
Coin Market Manger is proud to be the first trading analysis and portfolio management platform to partner with Bybit. At CMM, the mission is to provide active traders with the tools, services, and resources to ultimately help them become better traders.
CMM allows traders to view in-depth breakdowns of past trades and analyse their full trade history while tracking progress and performance of both live and concluded trades. 
Here's a quick look at what tools CMM offers to Bybit traders. 
Real-Time Total Exchange Equity
Traders can monitor the bitcoin and fiat denominations of the values of all their exchange assets in real-time.
Quick View of Overall PnL
Bybit traders can use CMM to track their overall profits and losses in both fiat and bitcoin denominated values. Values for all assets held on Bybit trading accounts are converted to their bitcoin value. And the fiat conversion is a good performance indicator of holding crypto and trading versus just holding fiat. 
To track these values, traders will need to make some conversions. Simply click Edit to view the full list of deposits and withdrawals made from a Bybit account connected to CMM. 
Using Conversion Credit, CMM users can pull the price of Bitcoin at the exact second of the transaction date. With this bitcoin price in hand, traders can now convert each transaction to discover the precise fiat value at the execution date, allowing them to monitor an entirely accurate fiat profit loss data for all trades and investments 
Full Trade History and Performance Charts
Traders using CMM can analyse their performance chart and statistics based on a selected range of trades. View win rates, the ratio of longs and shorts and average trade duration from the selected range of trades. Also, hover over points on the chart to see more details on the trade that caused this move
Any trading account connected to a CMM dashboard will show its full trade history – every single concluded trade since the account was created. Users can click any trade to expand and view detailed order execution history, total fees and funding from the trade, and the total trade duration.
Real-Time Position Data and Sharing
Inside a CMM dashboard, traders can view their overall unrealized and realised PnL data for all open positions and live corresponding USD values. CMM auto converts all the positions into a user's selected fiat currency. 
Users can now also share their open positions by generating a shareable link that hosts a snapshot of their trading data pulled directly from a connected exchange.
Visualised Balance History
Traders can see their entire wallet balance history mapped out in a graph and analyse their progress since creating their ByBit account. Also, traders can easily toggle between date ranges and visualise all deposits and withdrawals data. 
In-Depth Trade Analysis
Every CMM trader can generate an overview report of their full Bybit trading account. These reports include account statistics like total win ratio and a trading grade based on PnL and win rate. Welcome to crypto portfolio analysis at its finest!
Users can also view a separate breakdown of all long and short trade history to analyse their performance to discover their edge. View the same statistics for shorts. 
Generate CSV Reports for Accounting Use
The Reporting tool inside every CMM dashboard can be used to generate and download month-to-month reports of trade performance for each Bybit trading account. This data can help with tax preparation and other general accounting purposes.