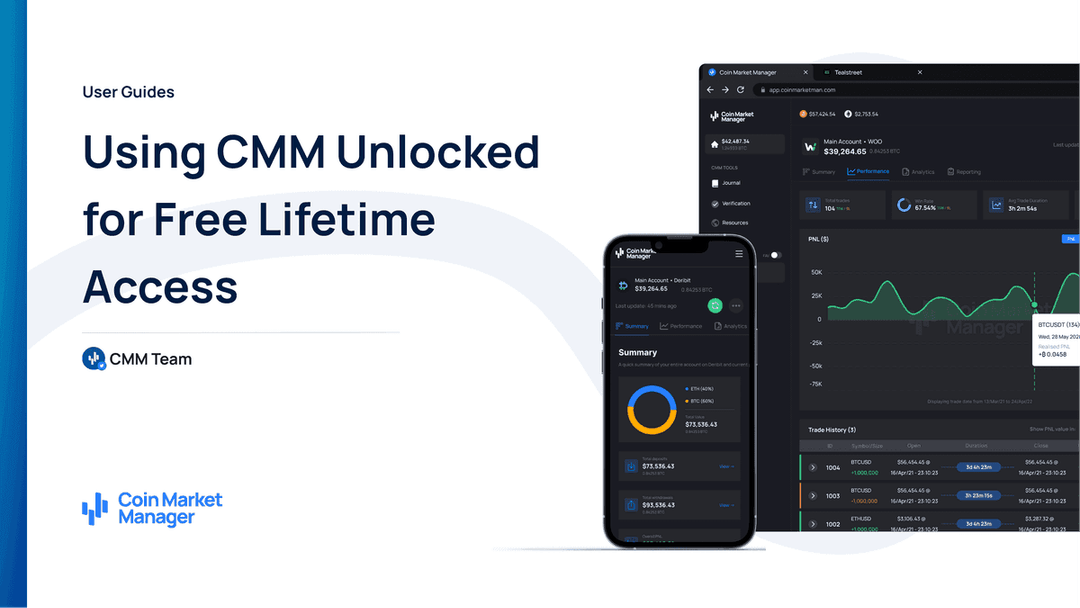 Using CMM Unlocked for Free Lifetime Access
By CMM Team - 04-Oct-2020
CMM Unlocked is a new initiative that offers premium access to all CMM features for free, for life. 
How Does It Work?
By connecting exchange accounts that were created with referral links listed in the CMM Unlocked program, traders can access all journal and analytics features inside their CMM dashboard for those connected accounts.
The CMM API Manager will automatically recognize any trading account connected to a dashboard that was created using a CMM Unlocked referral link. That account will instantly be upgraded to CMM Unlocked status with access to all CMM features. Also, that exchange account will be eligible for lifetime access to all CMM features for as long as it remains connected and in use. 
Get started using CMM Unlocked here! 
A Note from the CMM Team
The entire CMM team is proud to launch this program to bring automated journal and better portfolio tracking tools to every serious crypto trader. 
"We are so excited to pivot to a business model literally everyone can benefit from," said David Kanzen, co-founder of CMM, in a statement. "Especially for the smaller traders that couldn't quite justify the cost of a CMM subscription relative to the size of their trading account, CMM Unlocked is a great option."
Traders of all skills and account sizes can make the most of CMM tools for free, and the CMM team receives income via referral fees paid from exchanges in return. These resources can then be directed to expand the team, develop more features, and improve the product overall. 
Consider lifetime free access to CMM using CMM Unlocked by learning more here.