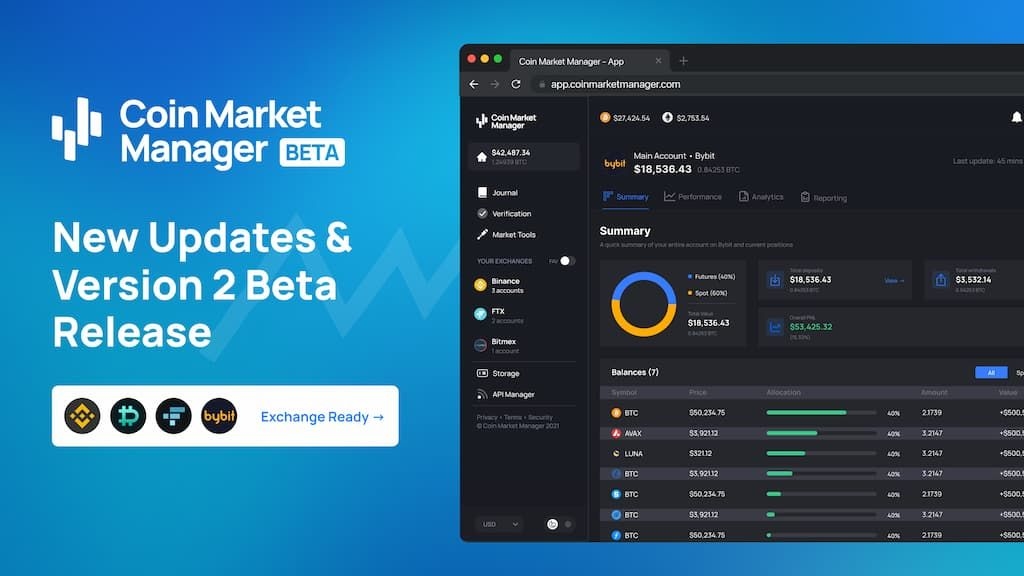 Introducing Coin Market Manager v2 Beta
By CMM Team - 20-Jul-2022
Most readers will know that the CMM team has been working on CMM V2 for nearly a year. 
Nearly five years ago, CMM launched as a simple crypto portfolio tracker. Since then, the product has rapidly evolved into the leading journaling, tracking and analytics platform for tens of thousands of crypto derivatives traders. 
The CMM Story (Abridged)
Coin Market Manager is a fully bootstrapped project. A few founders invested a few thousand dollars and thousands of hours of sweat, tears, and sometimes even blood. The result was CMM V2 pieced together by a one-man developer team working as fast as humanly possible to build all the features and infrastructure needed to manage complex exchange APIs and millions of trading entries for a global community of traders. 
A couple of years later, as revenue grew, CMM expanded its market and development teams. Together, the new team began rebuilding the entire system from the ground up using the most modern practices and frameworks. Given the incredibly complex nature of the services CMM provides, this was not – and still is not – a simple task.
After nearly a year since the rebuilding began, the entire CMM team is beyond excited to finally announce the release of CMM v2 Beta. 
Why is CMM v2 in Beta?
Truthfully, the CMM suite of analytics and journaling tools is still very much under development. The entire team is constantly planning, designing, and coding better tools, faster infrastructure, and improved user experiences for every trader that logs into their own dashboard. 
But the progress made to date on CMM v2 is now advanced enough to release a work-in-progress v2.
What's New in CMM v2?
The short answer: a lot. 
1: Brand New Infrastructure
For all tech lovers, CMM has moved from a one-server-does-it-all architecture to a very modern container-orchestration in AWS where different services are handling different parts of the site so that we can scale up and down depending on traffic loads. CMM deploys will be seamless with CI / CD, and the team will better be able to push features in a steady pace, or when desired.
2: Brand New User Interface
An incredible new user interface designed by CMM's in-house art team is included in this release, including a freshly upgraded layout that provides a significantly enhanced CMM user experience built around a new sidebar layout concept. This layout includes a brand new homepage with a consolidated view of a assets owned by a trader, their open positions, and more across all their connected exchange accounts.
3: Advanced Data Filtering
Traders can now select a date range and a custom combination of symbols in the Performance and Analytics sections of their dashboards to have full  dynamic control over their personalized trading insights.
4: Upgraded Analytics
In this new release, CMM has added a whole host of new trade analytics inside the main dashboard area – from trade volume stats to various averages and long-short specific stats.
5: Automated Conversions
In CMM v1, users had to navigate to the conversion hub and manually trigger the conversion of assets into their BTC and USD values to accurately track PnL. But in CMM v2, this whole process has been automated for the sake of an enhanced frictionless experience. The CMM team built a library of millions of historic price points that can be indexed to instantly convert any asset into any value at any point in time.
6: So much more…
Log in and take a look around! This is only the beginning. Now that the foundations are in place, the CMM team continues to work non-stop on improving infrastructure performance, upgrading features across the site, and adding more exchange compatibility.
A Few Extra Bits to Note
Plan Extensions and Price Rises: Whilst CMM v2 is still in BETA, every single non-paying user will automatically be upgraded to a one-month free trial from today (20th July 2022). All paying subscribers of PRO and ENTERPRISE plans will get an automatic three-month extension to their plans and will need to create a new subscription for auto-renewals. For clarity, if a user still has 200 days left, they will be granted an additional 90 days, but they will not auto-renew after the 290 days are up. The only change is canceling the auto-renewal whilst the they upgrade to a new payment architecture.
Errors and Bugs: There will no doubt be a tonne of bugs and errors across the site. Just know that the team has no intention of stopping or taking breaks any time soon. Everyone at CMM will be working around the clock cleaning things up until everything is perfect. Users who spot any issues or trouble are strongly encouraged to ping the team an email to support@coinmarketman.com or come and chat in the CMM Discord. 
Removed the Scanner: In CMM v2, the difficult decision was made to remove the CMM scanner. It took up too much resource and maintenance time. Plus quite frankly services like: [https://v3.aggr.trade](https://v3.aggr.trade) handle live trade tracking better than anyone.
Removed Spot Exchanges: Since CMM now serves only derivatives traders, compatibility with spot exchanges Coinbase and Bittrex has been removed for now to save resources. These and other spot integrations may be revisited at a later date, but for now, CMM is purely focused on remaining the industry leaders in crypto derivative trade tracking.
Temporarily Restricted BitMEX Tracking: CMM tools ran into a lot of trouble with the BitMEX trade data, so in order to not delay v2 BETA launch any further, the team chose to restrict the trade tracking features on BitMEX temporarily. These will be sorted ASAP.
Temporarily Paused Verification Pages: For the same reasons above, in order to speed up the release of v2 beta, the team chose to continue working on getting verification pages working as soon as v2 beta was released. They will be ready within weeks or less.
Temporarily Restricting Reporting: Again, to save delays, the team put the Reporting functionality on hold across all the exchanges. Reporting will be available again within a few weeks.
The Future of CMM
At CMM, the entire team feels like the shackles are finally off. The new infrastructure allows for shipping to seamlessly fixes, updates, upgrades and integrations of new features. Everyone is excited to keep building from here, and maintain CMM's place as the industry's leader in derivatives tracking and analytics.