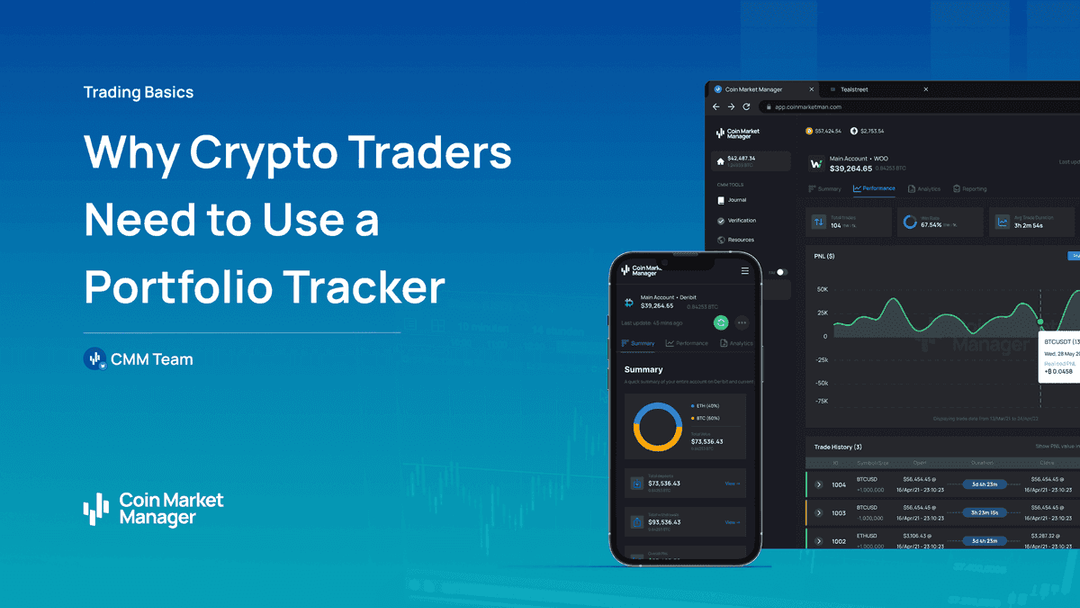 Why Every Crypto Trader Needs a Portfolio Tracker
By CMM Team - 15-Feb-2020
Coin Market Manager is honored to be the favorite trading journal and portfolio tracker for crypto traders around the world. With a simple and intuitive interface, access to personalized in-depth trade analytics takes a few clicks – and is key to improving portfolio management. 
Every trader needs portfolio management tools. 
Here's a quick look at some of the best features for this task, and why traders need them. 
Seamless Trade Data Auto-Sync
Users can easily sync thousands of trades via a read-only API key. No manual entries are needed. Update this data at any time with a simple click of the "Refresh Trades" button.
Real-Time Market Values and Statistics
Every trader can monitor their crypto portfolio market value in both bitcoin and fiat in real-time. Traders can also manage their exposure to any asset(s) they are currently trading with these tools.
Comprehensive Overview of Open Positions
See a clear overview of all live trades and investments with real-time price data in both BTC and USD. Inside the CMM dashboard, users can keep an eye on the overall rolling profit-and-loss summary for all open positions. Users will also see the individual market values of each asset in their exchange accounts. 
Break-Even and Rolling Profits
See the break-even figure on all live investments for a clear visualization of how well the position is performing, or see what price is needed to reach to be in profit again. Alongside the break-even calculator, users can monitor rolling profit loss in real time. Watch in real-time how much bitcoin a trade is earning. 
Exchange Gains Tracking
CMM makes it easy to review how much a trader has earned from each exchange account they connect to their CMM dashboard. Each deposit and withdrawal can also be converted to display its fiat and bitcoin values for truly accurate and consistent book keeping. 
Intuitive Trade Tracking
View the full trade history of each asset with CMM trade tracking features. Each concluded trade is broken up into "Legs". Click on any Leg of any trade to expand for more details.
In-Depth Trade Analysis
Expanding on the trade tracking features, CMM users can also expand any individual leg of any trade that shows in their history to see a full breakdown of the trade order execution history.