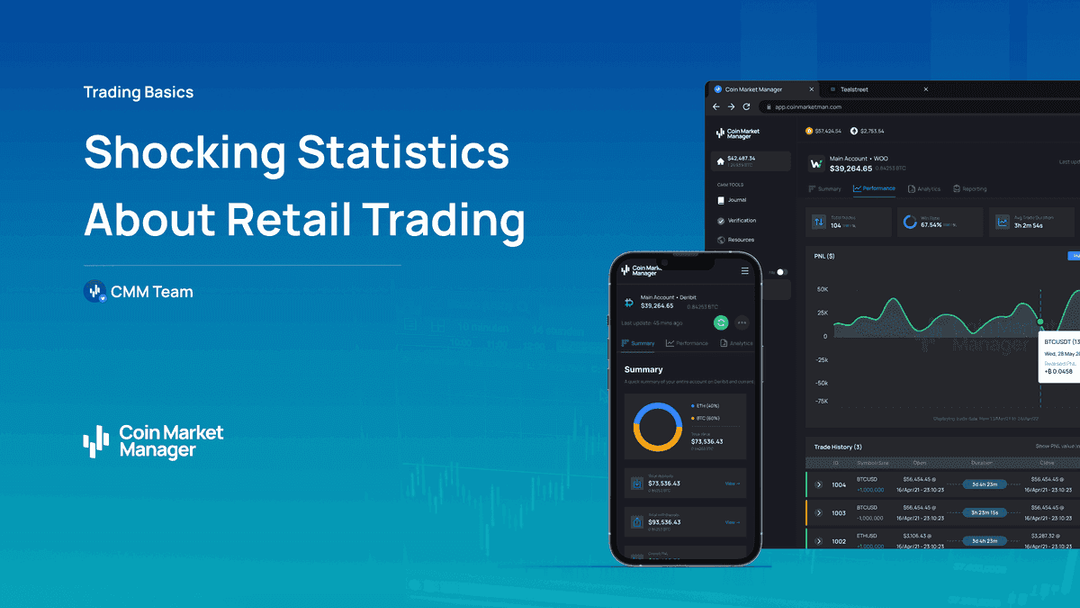 15 Surprising Statistics About Retail Traders
By CMM Team - 04-Sep-2023
Trading is not an easy hobby or profession. 
Regardless of whether a retail trader is active in stocks, currencies, commodities, or crypto, making a living as a retail market participant is immensely challenging. For successful traders, the victory of overcoming these odds is extremely satisfying. But the numbers don't lie – most traders fail. This article is a simple compilation of a variety of retail trading statistics for consideration by any readers who may be considering making trading their new hobby or full-time career. 
None of this data is necessarily meant to discourage aspiring traders. Instead, this data is meant to accomplish two things. First, it informs new traders of the challenging landscape that waits for them. Also, it provides clear benchmarks for success – surviving or surpassing any (or all) of these data points provides that someone is a successful trader. 
How many retail traders are there?
It makes sense to start with a basic headcount and profile of the retail trading crowd. 
How long do retail traders last?
Retail trading is not easy, but exactly how difficult is it? Here is some data on trader survival rates. 
How much money do retail traders have?
How much leverage do crypto traders use?
Cryptocurrency exchanges don't regularly share data on how much leverage their traders use. But in a few instances, some leading exchanges have published snapshots for the Twitter crowd to digest and analyze. 
For top exchanges like BitMEX and Binance, most crypto traders use at least 20x leverage. 
In April 2019, Arthur Hayes (founder and then-CEO of BitMEX) shared data compiled by his team of average leverage used by BitMEX traders from the previous month. "Longs and shorts used an average effective leverage of 22x and 30x respectively," his tweet read." 
In January 2020, Binance also published a snapshot dataset showing leverage amounts used by its traders. According to the report, "On average, over 80 percent of traders on Binance Futures trade at a leverage of 20x or higher." 
In July 2021, however, Sam Bankman-Fried claimed that "the average leverage used on FTX is ~2x." 
Who should become a trader?
No one can tell anyone they should not be a trader until they've actually tried trading. But just like with anything new, starting small and being careful is the best approach. But understanding the formidable odds facing any new trader should inspire the motivated and dissuade the indecisive ones. Hopefully the data in this article accelerates that process for each reader.