Using Trade Tags for Rapid Performance Analysis
By CMM Team - 03-Aug-2023
Organizing a trading journal is equally as important as having one at all. Labeling and categorizing trades by relevant information that distinguishes them from other setups is essential to comprehensive analysis into what trades work and which ones fail, and why. 
Features in the Coin Market Manager dashboard don't just automate the trade journaling process. But they make organization easy too. Some supplemental manual features make this process even easier, like the Tags feature explained in this article. 
What Are Tags?
Tags are a very simple way to monitor conditions that were present when a trade was taken. Data captured in a journal up to the moment right when a trade is entered is extremely valuable for analyzing the trade after it is exited… and any other trades that were taken for similar reasons. 
As shown below, trade entries allow traders to create and add these labels for future reference.
Creating Customized Tags
Importantly, the CMM software does not have a preset library of Tags for traders to access. Each trader creates their own cache of whatever tags are helpful for their memory and future study purposes. In the image below, a button for adding new tags is easily accessible. Traders can label their trades however they want with as many tags as they choose. 
So, what tags can traders create? Literally anything. 
From price structure and news events to indicator signals and technical setups, there are no limits on how a trader can tag their trades. Even aspects like sleep deprivation, gym attendance, emotions, or the weather are legitimate options for creating new tags! 
In short, anything relevant to what a trader experienced or thought or felt or observed before, during, and after taking the trade can become a tag. 
Studying Trades with Tags
After a series of trades have been taken that fit under different tags, traders can navigate to the overview section with all open and closed trades that will show their tags. To review wins or losses, a user can  just click into the trade and see what they were thinking, watching, or experiencing when they took the trade.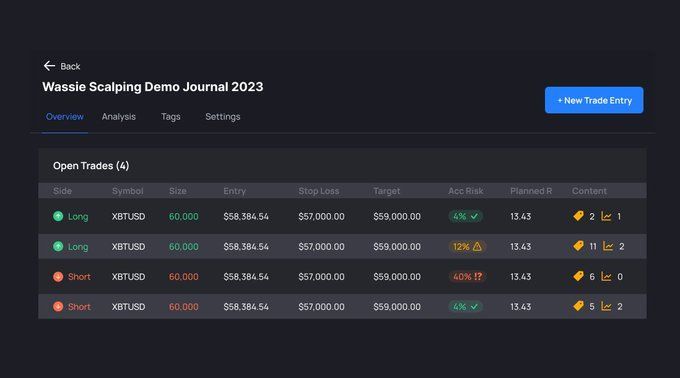 Next, evaluate the performance of those tagged trades. In the Analysis section of the journal, traders can review what Tags are losers and which ones are winners. Do more of what's working. Stop doing what's not.
For every tool inside the CMM dashboard, the goal is helping each user become a better trader with systemized data-driven analytics and note-taking features. Having a trading journal is a key step to improving as a trader. Organizing the journal with features like Tags is just as important.