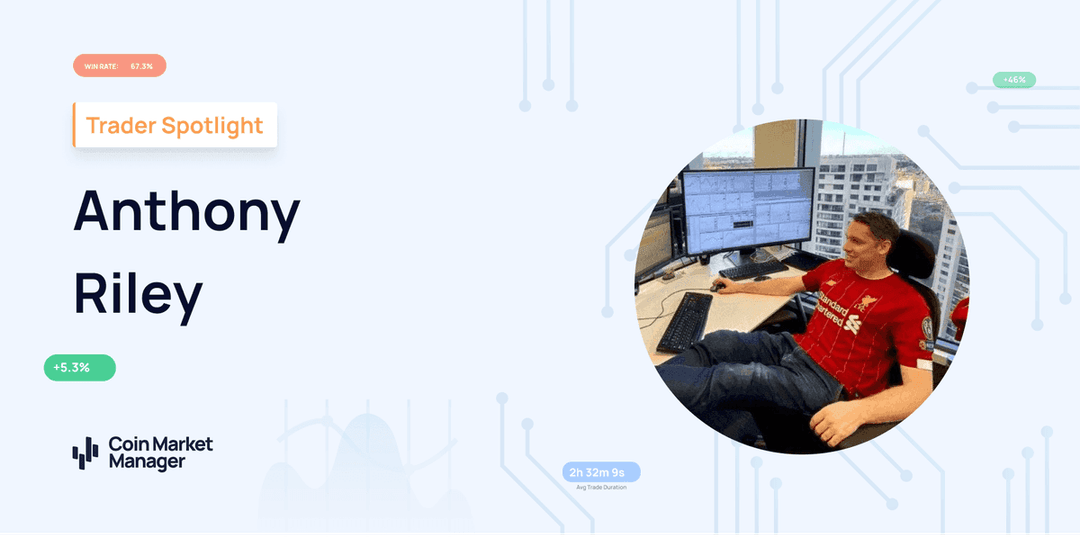 Trader Spotlight on Anthony Riley
By CMM Team - 08-Nov-2020
For the latest installment of the Trader Spotlight series, Anthony Riley chats with CMM about his prop trading firm CryptoProp, a team that's willing to give traders decent capital to trade crypto and split the profits. Anthony talks about his more-than-ten years of trading experience, advice, and how his firm operates. 
An Interview with Anthony Riley
How did your trading journey start and what helped you become profitable?
Anthony Riley sits at this trading desk.
Riley: My journey started in 2008 where I was exposed to stock trading. I was always interested in making money and property was too much to get into so trading was the next best thing. That was quite the journey of trial and error making all the usual retail trader mistakes from not understanding my edge to emotional trading and everything in between. 
From there, the big leap into prop trading in 2013 really helped me step to the next level – being mentored by successful traders and surrounded by like-minded individuals doing this full time was critical to my progress. For most of my prop trading career I've been a futures trader and recently my openness to opportunity has led me to crypto.
In becoming a profitable trader, I had the attitude of never giving up. This is driven by my strong passion for trading and giving in wasn't even an option! I was also fortunate to be mentored by some great traders and had a good supportive learning environment to help me grow both mentally and technically. Later in the journey the key I found for sustaining profitability came from being adaptable and finding new and interesting ways to express your edge and that's what led me into the world of crypto!
How would you describe prop trading to someone who's never heard of it?
Riley: A prop firm is a business that provides capital and resources to fund traders to make a profit. In these arrangements the trader is remunerated via profit split. Some of the resources available to traders are technological, mentoring & training, networking & team environments to name a few. CryptoProp's focus is day trading digital assets across a range of exchanges and was formed through a traditional futures trading firm, by a successful trader and crypto investor, Toby Abbey.
Is there anything in particular you look for when assessing traders?
Riley: You can't go past someone who has a strong desire and passion to trade. It's great to see applicants who have traded before, have been a seeker of knowledge and willing to put in the hard work and ride the cycles of becoming a trader.
Some other great traits are resilience and never giving up, mindset of a winner, being always keen to learn and self-motivated. You need to make it happen for yourself and having these traits will give you a good shot!
Why do most traders struggle in the market?
Riley: This is a good question and I think there is a variety of reasons. First, people assume one set strategy will last forever, which is crazy. My belief is everything remains in existence but changes form, so in trading the trade you did before might have modified with the changing of the market, but to think one thing can stay the same forever is such a naive way of thinking but as courses don't teach people to adapt most don't realise how to change what they're doing.
The next reason would be mindset. Most people aren't accustomed to being beat at something and having the desire to get up and do it again! In my experience most people come to trading initially for the money, and only those who find a deep love of the markets stay long term. If you don't love what you do, you'll never have the strength to overcome the obstacles needed for success.
My third factor would be the ability to size up on a trade when it's working. Many traders don't learn to capitalize when their strategy is at its best and then when the inevitable drawdown comes they regret not taking more out of their edge when it was good! Make hay while the sun shines!
Has CMM helped you perform as a crypto trader?
Riley: Knowing your stats is critical in knowing your edge. Developing a better understanding of what you do right vs wrong is key in becoming better! I've also had great use when I go back and review my edge as it can help me better understand when to stop a trade or when to double down on a strength.
I like things to be simple yet efficient and feel that the CMM platform achieves that.
What trading advice do you wish you had 12 years ago when you started?
Riley: Interesting question, I think I would tell myself to be patient, don't rush for results and enjoy the process. I would also say have a deeper understanding of your own strengths, weaknesses and purpose. This may sound very esoteric, but I believe the more we understand ourselves, where we want to go and what we want out of life, the easier it is to put ourselves into the best places to help make it happen.
I'd also recommend staying hungry and always looking for new opportunities that might fit your trading style, even if this means trading in different exchanges or asset classes.
CMM thanks Anthony Riley and the CryptoProp team for giving this interview for publication.