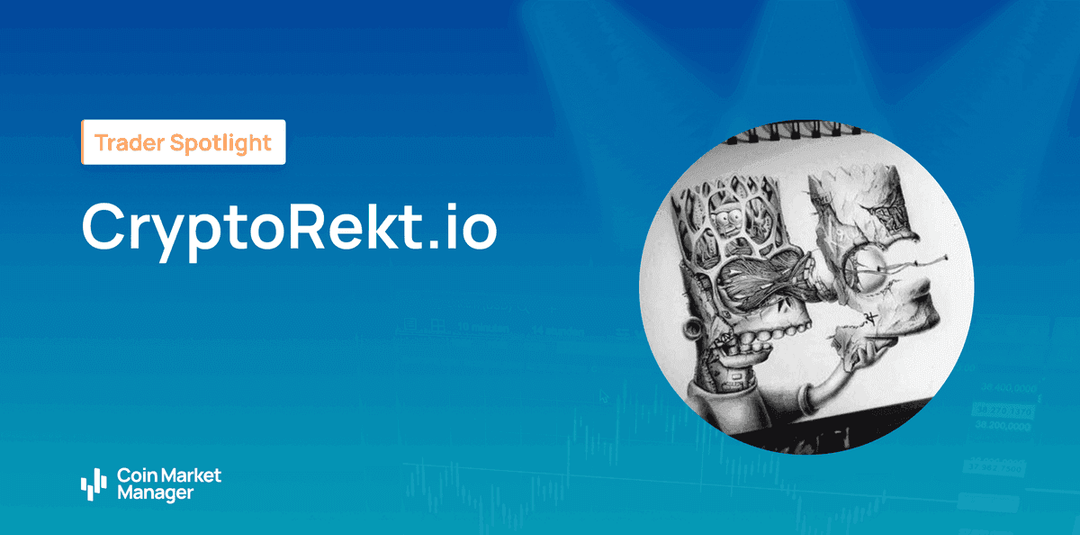 Trader Spotlight on CryptoRekt.io
By CMM Team - 20-Sep-2020
In this latest edition of the Trader Spotlight series, an interview with a hidden gem trader unpacks the value of patience and planned execution. Their live trading data displayed on a CMM Verification Page speaks for itself. 
Overview of Trading Statistics To Date: 
42 Trades
3 Months
150% account growth
100% Win Rate 
An Interview with CryptoRekt.io
Talk a bit about life and background before trading? What got you into trading?
CR: When Bitcoin launched back in 2008, I was still in high school – back then it was literally internet magic money with no market or any value at all. In fact, there were multiple faucets and forums where you could get free bitcoin(s). I even got some, but I lost the keys since they had no intrinsic value and I didn't really understand the whole concept. I just wanted to party. 
Fast forward a couple years, the fall of MtGox news shook the world, and I decided to search for my private keys on my old hard drives to no avail. A year later, after finishing my college degree, bitcoin got me interested again in late 2016. 
Since then, I have dedicated insane amounts of hours reading everything about bitcoin, cryptocurrencies, types of blockchain, spot trading, derivatives, UTXOs, nonces, forks, DeFi, etc., and it's the best money we ever had. No central party, no way to be seized, permissionless and borderless. 
Is trading your primary source of income?
CR: Yes
How long did it take you to become consistently profitable?
CR: Well, that depends. I was lucky. At the 2017 ICO craze, I was a rookie. But despite not having a single idea about what I was doing, I was waking up richer every day. My only concerns were my shitcoin was only up 20% while the rest of shitcoins were up 44%. I had a hell of a run, but then I discovered Bitmex and margin trading. 
I blew up a dozen accounts and gave back most of my profits doing revenge trading. That was the tipping point which made me realize that this is not a rich quick scheme but one of the most competing and hardest industries—trading for a living. I have spent a significant amount of time in developing and nurturing my skills. That's when I discovered an edge. 
Back in the day, Bitmex's funding rate was 0.36% ever 8 hours, so for quite some time I was hedged "farming" 1% daily. But now market participants and crypto markets in general are way more efficient, and this edge disappeared. And that's the main reason I can share it with you all. So, to answer the question, I was profitable from the beginning. What I was lacking was consistency.
With regards specifically to your trading style, talk about how you started and how you got to where you're at today?
CR: Let's start by pointing out that this account was a personal challenge, and nobody can maintain that kind of accuracy in the long term. It's just nuts! I started like almost everyone else with the mentality that more indicators means better charting and more profits. Soon I realized that all lag behind price action and in a sense, they are the derivative of it.
Before crypto I was gambling at anything I could lay my eyes on so I promised myself that I won't degen gamble again. As a result, risk management being my strong suit. The point was to survive long enough to catch up with the knowledge I was acquiring daily and create a system that's profitable consistently. 
90% plus of traders lose money, and I was fully aware of that. No matter the trading style, all I see are apes throwing darts at random. Sure, some are winners. But at the end of the day, we have no idea what we are doing. After 4 years I now consider myself a pro ape, but nonetheless still an ape. Don't get me wrong – there are magnitudes of improvements to be made, and I want to take this opportunity to thank all my CT anon friends who directly or indirectly shaped me into a better trader. 
Every market condition needs a different approach, but nowadays my technical analysis is just naked charts. I use a combination of horizontal support and resistance (demand and supply), orderflow (heatmaps), and I am trying to anticipate where liquidity is but most importantly who is in control (bull or bear) whales and big players. Overall, a modern tape reading technique.
How long have you been using CMM? How has it affected your trading?
CR: Any trader that takes himself seriously MUST journal his trades. I can't stress enough how important that is. You can reference back to a later time and observe why it worked or didn't. Fractals are everywhere, and if you have been trading for quite some time, you surely had a moment where you thought, "Wait, I have seen this before but I don't really remember what happened. Oh, crap!" 
Frankly, CMM has a solid journal that I am using for a little over one month. It displays everything in an elegant way from how many trades you took each day and time to your most profitable or worst setups alongside a chart to study. Fees, funding and rebates are eye opening stats.
What advice would you give to yourself when you first started trading?
CR: DCA-ing in perpetual markets is a recipe for disaster. Leave it to the professionals. Cut your losing trades rapidly, and let winners run by moving your stop-loss below the last major higher low. Also, trading is a means to an end. Aim for financial freedom. Paid groups are a scam. Keep grinding consistently!
Do you have any final trading thoughts to share?
CR: You know, as much as we can achieve, there are always new beginnings and new things to do. The world is full of stories, and from time to time they permit themselves to be told. There are two kinds of traders: those who are humble and those who get humbled. I haven't made it yet, but I am getting there! Keep grinding consistently.